Wolfbeast.com on-line shop

Currently this is a placeholder page with information about ordering custom-made soap while a proper on-line store is being set up on a store provider platform. In the future, you may place orders directly through there in a streamlined fashion.

Custom soaps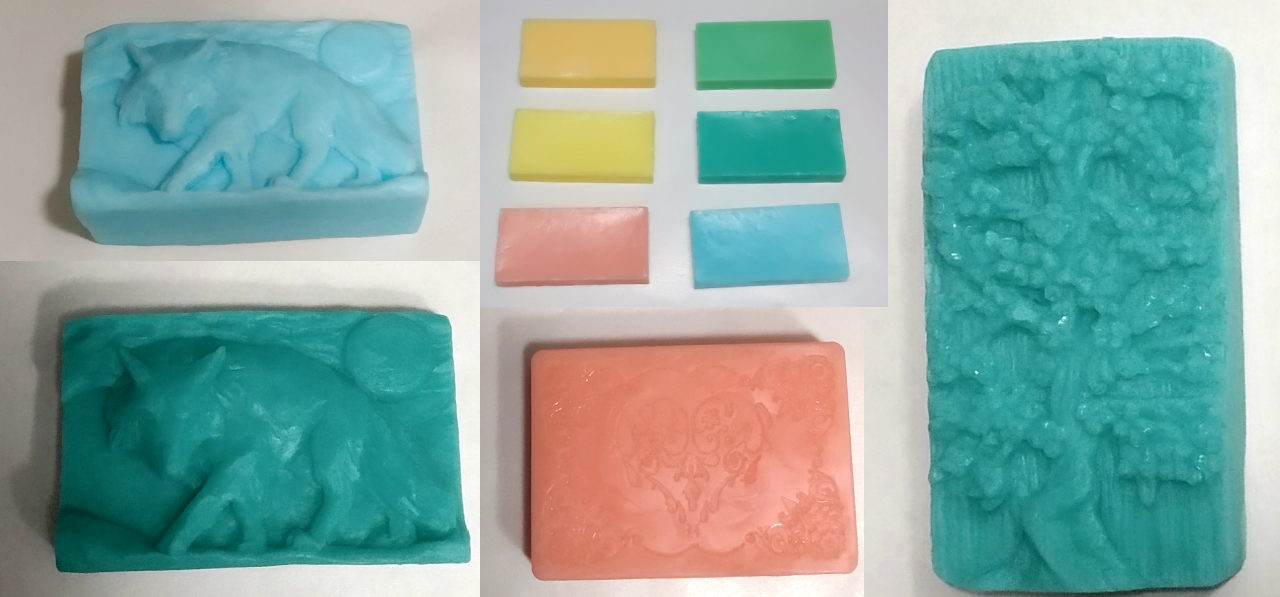 These soaps are hand-crafted by me, hand-shaped and using unique scents you will not find anywhere else inspired primarily by nature, animals and mythical creatures.
These are bar soaps (hard soap). For obvious reasons I will not create or ship creams, liquid soaps, or other soap products that require containers.

If you have a specific custom request, e-mail me and I can see if I can make something unique just for you!

Soap details/ingredients

These soaps are all:

Vegan-friendly (no animal ingredients used)
Home-made in a dedicated setup for clean, pure soap
Unless otherwise noted: glycerin-based
SLS-free (no aggressive sodium lauryl sulphate foaming agent)
Scented with 100% pure essential/etherial oils from professional suppliers
The unique blends in my soaps are my own recipes!
Colored with specific and safe soap coloring agents
Ingredients of the glycerin soap:
Aqua, Glycerin, Propylene Glycol, Sodium Laureth Sulphate, Sodium Stearate, Sorbitol, Sodium Laurate, Sodium Chloride, Sodium Thiosulphate, Etidronic Acid, perfume (natural essential oils), soap coloring agents.
Available items

The designs:
• Salmon pink: "Desert Rose"
A warm, floral scent with hints of blooming desert flowers and roses.
• Light yellow: "Sunscale"
A light, zesty soap with a strong scent of citrus over a wood base.
• Golden yellow: "Jīnlóng" (Golden Dragon)
A more full-bodied, citrus-infused soap with southern hemisphere wellness oils.
• Green: "Forester"
A blend of various shrub and wood scents, with tones of birch and juniper.
• Blue-green: "Siberia"
A robust, masculine scent with tones of cedar wood and evergreen needles. Includes imported Siberian fir oil from a private contact in Russia. Limited availability because Russian relations are now a problem.
• Light blue: "Arctic Fox"
A light, musky soap with a hint of myrrh to tingle the senses.

Pricing:
5x guest/travel soaps of one type €6.95
1x standard bar (~80g) of your chosen type €4.95
1x large (~120g) 3D design bar of your chosen type €6.95

I am also offering a variety pack, in case you want to try out all the different scents or just can't make up your mind. These are small guest/travel soap bars.
6x guest/travel soap variety pack, one of each design €7.95

Ordering

Please send an e-mail to

with the following information:
Your first and last name
Your address
Postal code
City
Country
Your e-mail address
Your phone number (optional)
Your order details:
For each item: type, size and how many you wish to order
Payment method (see below)
Shipping if non-standard (e.g. desire for express/tracking). See below for shipping restrictions.

Payment
Payment can be made through:

Paypal (I will send you an invoice to your e-mail address. Do not make random payments! Wait for the invoice!)
SEPA bank transfer if you are within the EU/EEA. I will provide payment details in the order confirmation after you have e-mailed me
Shipping
Shipping has a flat rate per order, depending on the number of items ordered. Please request a quote for larger orders via e-mail.

Shipping and handling:
Within Sweden €4.80 for 1 item, €5.40 for 2-3 items, €6.25 for 4-8 items
Within the EU/EEA €6.25 for 1 item, €8.75 for 2-3 items, €13.75 for 4-8 items
World-wide €6.25 for 1 item, €8.75 for 2-3 items, €13.75 for 4-8 items + any import duties/VAT in your area
These S&H prices are based on standard, untracked letter mail. Shipping this way is always at your own risk. If you wish to have guaranteed delivery in areas that are prone to having mail "displaced", then please note this in your e-mail when ordering. Additional price for tracking/insurance is
approximately €5 per order
.